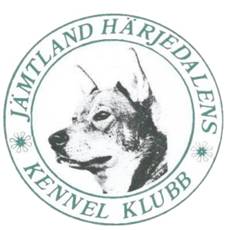 JÄMTLAND/HÄRJEDALENS KENNELKLUBBS NATIONELLA UTSTÄLLNING I
SVENSTAVIK 2 - 3 AUGUSTI 2014
Utställningsplats/Showground: Galhammaruddens Ip, Svenstavik (6 mil söder om Östersund)
Sista anmälningsdag för anmälan per post utgår 26 juni /Last entry by post June 26
Sista anmälningsdag via internetanmälan utgår 2 juli, kl 12.00 /Last entry via SKK online entry July 2, 12.00 am

Anmälan via SKKs Internetanmälan/Online entry: www.skk.se.
In order to use the online entry the dog has to be in SKKs data base. For foreign dogs please send a copy of the registration certificate/pedigree to reg@skk.se a few days before you want to make the entry online.
Internetanmälan gäller endast utställning, ej lydnad, agility eller juniorhandling/Online entry for shows only (not obedience, agility or juniorhandling).
Anmälan per post: på blanketten Tävlingsanmälan (finns att hämta på www.skk.se) skickas till J/H Kennelklubb, c/o Henriksson, Saxv 2, SE-831 61 Östersund. Avgiften sätts in på J/H Kennelklubbs PlusGiro 72 84 92-0
Frågor rörande din anmälan, kontakta/Inquiries regarding your entry: Kerstin Henriksson 070 – 344 98 05, 063 – 516508 (kl 18-21)
Allmänna upplysningar/information:Tel 070-3449805, kerstin.henriksson@jhkk.se Du hittar oss även på/You may also look at www.jhkk.se eller kontakta Svenska Kennelklubben, Tävlingsavdelningen, 08-795 33 22, 10-12, 13-15.
Overseas exhibitors who do not use the online entry: must require special entry form. You can download the entry form at the SKK website www.skk.se The entry form shall be sent to J/H Kennelklubb, c/o Henriksson, Saxv 2 SE 831 61 Östersund Sweden.
Please note: A copy of the registration certificate with complete pedigree must be enclosed together with a copy of payment (checks not acceptable) and working class certificate (WCC) if applicable.
Rules for entry and further infomation for overseas exhibitors – please see www.skk.se
Payment:
Norska utställare: Norsk bankkonto DnBNOR 7877.08.12940
Please pay the entry fee via to our IBAN SE51 9500 0099 6034 0728 4920 BIC code NDEASESS Please pay via Euro giro or SWIFT to our account no. 728492-0
Payment receipts must indicate the name of the dog, registration number and owner.
Payment must reach Jämtland/Härjedalens KK by last entry date.
Husvagnsplats bokas genom Bergs IK 0687-100 20 (Maria) eller E-post: hund.bergsik@telia.com
| | | |
| --- | --- | --- |
| Anmälningsavgifter/Entry fee: | SEK t.o.m. 26/6 | SEK f.r.o.m 27/6 t.o.m. 2/7 kl 12.00 |
| Valpklass/Puppy class (6-9 mån) | 200:- | 200:- |
| Juniorklass/Junior class (9-18 mån) | 320:- | 320:- |
| Unghundsklass/Intermediate class (15-24 mån) | 320:- | 320:- |
| Bruks-/jaktklass/Working class (15 mån-) | 320:- | 320:- |
| Öppen klass/Open class (15 mån-) | 320:- | 320:- |
| Championklass/Champion class (15 mån-) | 320:- | 320:- |
| Veteranklass/Veteran class (8 år- ) | 240:- | 240:- |
LÖRDAG 2 AUGUSTI
Grupp: 2, 4, 5, 6, 7, 9
-----------------------------------------------------------------------------------------------------------------
GRUPP 2 - SCHNAUZER och PINSCHER, MOLOSSER och BERGSHUNDAR samt
SENNENHUNDAR
Dvärgpinscher, pinscher,: Gertrud Hagström
Affenpinscher, aidi, anatolisk herdehund, appenzeller sennenhund, berner sennenhund, broholmer, bullmastiff, cao da serra da estrela, cao de castro laboreiro, cao fila de sao miguel, cimarrón uruguayo, ciobanesc romanesc de bucovina, dogo argentino, dogo canario, dogue de bordeaux, entlebucher sennenhund, fila brasileiro, grosser schweizer sennenhund, hollandse smoushond, kavkazskaja ovtjarka, krazski ovcar, landseer, mastiff, mastin espanol, mastino napoletano, newfoundlandshund, perro dogo mallorquin/ca de bou, pyreneisk mastiff, rafeiro do alentejo, riesenschnauzer, rysk svart terrier, sarplaninac, shar pei, sredneasiatskaja ovtjarka, tibetansk mastiff, tornjak, tosa österreichischer pinscher: Per Kr Andersen, Norge
Boxer, dobermann, engelsk bulldogg, grand danois, rottweiler: Jens Myrman
Cane corso, dansk/svensk gårdshund, hovawart, leonberger, pyrenéerhund, sankt bernhardshund: Martin Johansson
Dvärgschnauzer, schnauzer: Anneli Alfthan, Finland
GRUPP 4 - TAXAR
Tax, samtliga varianter: Oscar W Nilssen, Norge
GRUPP 5 - SPETSAR och RASER AV URHUNDSTYP
Akita, american akita: John Jakobsen, Norge
Alaskan malamute, finsk spets, grönlandshund, hälleforshund, jämthund, karelsk björnhund, norrbottenspets, norsk älghund grå (gråhund), norsk älghund svart, samojedhund, siberian husky, svensk vit älghund, östsibirisk lajka: Ewa Widstrand
American eskimo dog, canaan dog, chow-chow, dansk spids, eurasier, hokkaido, isländsk fårhund, japansk spets, kai, keeshond, kishu, korea jindo dog, mexikansk nakenhund, perro sin pelo del peru, rysk europeisk lajka, shikoku, taiwan dog, thai bangkaew dog, thai ridgeback dog, tysk spets/grosspitz, tysk spets/kleinspitz, tysk spets/mittelspitz, volpino italiano, västsibirisk lajka: Frank Christiansen, Norge
Basenji, norsk buhund, norsk lundehund, shiba, västgötaspets: Martin Johansson
Cirneco dell'etna, faraohund, finsk lapphund, lapsk vallhund, podenco canario, podenco ibicenco, podengo portugues, svensk lapphund: Jens Myrman
Pomeranian: Lisbeth Campbell, Norge
GRUPP 6 - DRIVANDE HUNDAR samt SÖK- och SPÅRHUNDAR
Alpenländiche dachsbracke, american foxhound, anglo-francais de petite venérie, anglo-russkaya gontjaja, ariégeois, basset artésien normand, basset bleu de gascogne, basset fauve de bretagne, basset hound, bayersk viltspårhund, beagle harrier, billy, black and tan coonhound, blodhund, bluetick coonhound, bosanski ostrodlaki gonic-barak, briquet griffon vendéen, chien d'artois, crnogorski planinski gonic, deutsche bracke, erdélyi kopó, estlandsstövare, foxhound, francais blanc et noir, francais blanc et orange, francais tricolore, gascon saintongeois, gonczy polski, grand anglo-francais blanc et noir, grand anglo-francais blanc et orange, grand anglo-francais tricolore, grand basset griffon vendéen, grand bleu de gascogne, grand griffon vendéen, griffon bleu de gascogne, griffon fauve de bretagne, griffon nivernais, hannoveransk viltspårhund, harrier, hellinikos ichnilatis, istarski kratkodlaki gonic, istarski ostrodlaki gonic, ogar polski, otterhound, petit basset griffon vendéen, petit bleu de gascogne, plott, poitevin, porcelaine, posavski gonic, sabueso espanol, segugio italiano, serbski gonic, serbski trobojni gonic, slovensky kopov, steirische rauhaarbracke, tirolerbracke, westfälische dachsbracke, brandlbracke – (Vieräugl): Frank Christiansen, Norge
Beagle, drever, dunkerstövare, finsk stövare, gotlandsstövare, haldenstövare, hamiltonstövare, hygenstövare, russkaja gontjaja, schillerstövare, schweiziska små stövare, schweiziska stövare, smålandsstövare: Oscar W Nilssen, Norge
Dalmatiner, rhodesian ridgeback: Sara Nordin
GRUPP 7 - STÅENDE FÅGELHUNDAR
Bracco italiano, braque d'auvergne, braque de l'ariège, braque du bourbonnais, braque francais type gascogne, braque francais type pyrénées, braque saint-germain, breton, cesky fousek, deutsch stichelhaar, drentsche patrijshond, épagneul bleu de picardie, épagneul de pont-audemer, épagneul francais, épagneul picard, gammel dansk hönsehund, griffon d'arret àpoil dur/korthals, grosser münsterländer, kleiner münsterländer, korthårig vorsteh, långhårig vorsteh, perdigueiro portugues, perdiguero de burgos, pudelpointer, slovensky hrubosrsty stavac, spinone, stabyhoun, strävhårig vorsteh, ungersk vizsla, weimaraner: Frank Christiansen, Norge
Engelsk setter, gordon setter, irländsk röd och vit setter, irländsk röd setter, pointer: Oscar W Nilssen, Norge
GRUPP 9 - SÄLLSKAPSHUNDAR
Bichon frisé, bichon havanais, bolognese, coton de tuléar, kromfohrländer, pudel dvärg, pudel mellan, pudel stor, pudel toy: Lisbeth Campbell, Norge
Bostonterrier, cavalier king charles spaniel, fransk bulldogg, japanese chin, king charles spaniel: Sara Nordin
Chihuahua, lhasa apso, malteser, mops, pekingese, russkiy toy, tibetansk terrier: John Jakobsen, Norge
Löwchen, papillon, phalène, russkaya tsvetnaya bolonka: Per Kr Andersen, Norge
Griffon belge, griffon bruxellois, petit brabancon, tibetansk spaniel: Jens Myrman
Chinese crested dog: Agneta Kappers
Prazsky krysarik, shih tzu: Saija Juutilainen, Finland
GRUPPDOMARE
Grupp 2: Per K Andersen
Grupp 4/6: Oscar W Nilssen
Grupp 5: Lisbeth Campbell
Grupp 7: Martin Johansson
Grupp 9: John Jakobsen
Bästa valp: Sara Nordin
Bästa veteran: Martin Johansson
Bästa avelsgrupp: John Jakobsen
Bästa uppfödargrupp: Jens Myrman
---------------------------------------------------------------------------------------------------------------
SÖNDAG 3 AUGUSTI
Grupp: 1, 3, 8, 10
-----------------------------------------------------------------------------------------------------------------
GRUPP 1 - VALL-, BOSKAPS- och HERDEHUNDAR
Australian cattledog, australian kelpie, australian shepherd, belgisk vallhund/groenendael, belgisk vallhund/laekenois, belgisk vallhund/malinois, belgisk vallhund/tervueren, bouvier des flandres, briard, mudi, pumi, schapendoes: Martin Johansson
Australian stumpy tail cattle dog, beauceron, bergamasco, berger des pyrénées à face race, berger des pyrénées à poil long, berger picard, bouvier des ardennes, ca de bestiar, cao da serra de aires, ceskoslovensky vlcak, chodsky pes, ciobanesc romanesc carpatin, ciobanesc romanesc mioritic, gos d'atura catala, hollandse herdershond, hrvatski ovcar, juzjnorusskaja ovtjarka, komondor, kuvasz, lancashire heeler, maremmano-abruzzese, old english sheepdog, polski owczarek nizinny, polski owczarek podhalanski, puli, saarloos wolfhond, schipperke, slovensky cuvac, tysk schäferhund normalhårig - långhårig, welsh corgi cardigan, welsh corgi pembroke: Frank Christiansen, Norge
Bearded collie: Sara Nordin
Collie, långh – korth, shetland sheepdog, vit herdehund: Jens Myrman
GRUPP 3 - TERRIER
Airedaleterrier, irländsk terrier, kerry blue terrier, släthårig foxterrier, strävhårig foxterrier: Martin Johansson
American staffordshire terrier, bedlingtonterrier, bullterrier irish soft coated wheaten terrier, lakelandterrier, manchesterterrier, miniatyr bull terrier, staffordshire bullterrier, tysk jaktterrier, welshterrier: Per Kr Andersen, Norge
American toy fox terrier, australisk terrier, cairnterrier, ceskyterrier, dandie dinmont terrier, english toy terrier, irish glen of imaal terrier, nihon teria, norfolkterrier, norwichterrier, sealyhamterrier, silky terrier, skotsk terrier, skyeterrier, tenterfield terrier, terrier brasiliero, west highland white terrier, yorkshireterrier: Lisbeth Campbell, Norge
Borderterrier, jack russell terrier, parson russell terrier, ratonero-bodeguero andaluz: Frank Christiansen, Norge
GRUPP 8 - STÖTANDE HUNDAR, APPORTERANDE HUNDAR och
VATTENHUNDAR
American water spaniel, barbet, chesapeake bay retriever, curly coated retriever, flatcoated retriever, golden retriever, irländsk vattenspaniel, labrador retriever: Saija Juutilainen, Finland
Amerikansk cocker spaniel, clumber spaniel, cocker spaniel, engelsk springer spaniel, field spaniel, welsh springer spaniel: Sara Nordin
Lagotto romagnolo, nederlandse kooikerhondje, nova scotia duck tolling retriever, perro de agua espanol, portugisisk vattenhund, sussex spaniel: Martin Johansson
Wachtelhund, wetterhoun: Per Kr Andersen, Norge
GRUPP 10 - VINTHUNDAR
Afghanhund, azawakh, borzoi, chart polski, galgo espanol, irländsk varghund, magyar agar, saluki, skotsk hjorthund, sloughi: Agneta Kappers
Greyhound, whippet: Jens Myrman
Italiensk vinthund: Saija Juutilainen, Finland
GRUPPDOMARE
Grupp 1: Per Kr Andersen
Grupp 3: Lisbeth Campbell
Grupp 8: Saija Juutilainen
Grupp 10: Agneta Kappers
Bästa valp: Sara Nordin
Bästa veteran: Martin Johansson
Bästa avelsgrupp: Agneta Kappers
Bästa uppfödargrupp: Jens Myrman
BEST IN SHOW: Frank Christiansen
Juniorhandlingsdomar